WUSSUP WUSSUP FROM NYC
This week has been amazing. New York is incredible. It feels like you're in a film.
---
15 Reasons Why Your Podcast Might Be Struggling
Podcasting has taken the world by storm, offering an intimate way to share stories, insights, and expertise.
However, like any form of content creation, it has challenges.
If you've ever wondered why your podcast isn't gaining the traction you hoped for, you're not alone.
Here are 15 common pitfalls that might be holding you back:
Overuse of Ads: While monetization is essential, listeners can be put off by excessive or poorly placed advertisements. Ensure your ads are relevant and don't disrupt the natural flow of your content.
Lack of Preparation: A well-researched and organized episode stands out. Avoid rambling or going off-topic by preparing ahead of time.
Talking Over Guests: Engaging in a respectful dialogue where both you and your guest can share insights is crucial. Avoid dominating the conversation.
Poor Audio Quality: Given that podcasts are an auditory medium, clear sound is paramount. Invest in good equipment and editing software.
Overuse of Filler Words: While everyone occasionally uses "um" or "like", excessive filler words can make the content seem unpolished.
Inconsistent Release Schedule: Regular episodes give listeners something to look forward to. Stick to a consistent publishing schedule.
Long Introductions: Dive into the main content quickly. Extended intros can test a listener's patience.
Lack of Diversity: A range of voices and perspectives can enrich your podcast. Seek out diverse guests and topics.
Being Overly Self-Promotional: While it's okay to promote your products or services, balance is key. Avoid turning episodes into extended sales pitches.
Not Engaging with the Audience: Interaction fosters community. Consider Q&A sessions or shout-outs to engage your listeners.
Repetitive Content: While revisiting topics is okay, ensure you're bringing fresh insights or perspectives to keep content engaging.
Excessive Inside Jokes: Inside jokes can be fun, but overdoing it might alienate new listeners.
Not Fact-Checking: Ensure your content is accurate. Misinformation can erode trust.
Lack of Episode Descriptions: A clear summary helps listeners decide if an episode is right.
Too Many Call-to-Actions: While CTAs are essential, bombarding listeners with too many requests can be off-putting.
Podcasting is a journey of continuous learning and adaptation. You can enhance your podcast's quality and appeal by being aware of these common pitfalls and actively working to address them. Remember, every podcast is unique, and feedback is invaluable. Stay authentic, be open to change, and always prioritize your audience's experience.
---
3 Things I Found Absolutely Amazing This Week
Terry O'Neil
Since I'm in New York, I had to check out some art galleries and museums. One of which, was Fotografiska. This time around, they had an exhibition titled "Stars," a selection of photographs from the legendary photographer Terry O'Neil. You've probably seen his work but never heard of him. That was definitely the case for me.
If you're in New York, definitely go check it out!
On Running
Okay lol this is a bit of a random one, but I finally got myself a pair of On Running shoes (after a year of searching for this specific pair) and they are INCREDIBLE. So comfortable - actually makes me want to go and try out some trail running.
If you're looking for a new running shoe, these are the ones.
Wisin & Yandel - Rakata
So this one isn't new, but I'm definitely obsessed with the song again. My cousin used to be the download king, and he gave me a CD compilation with this tune on it when I was about 8 or 9.
Then at KALLIDA, a DJ played a techno version and it took me back to being a kid again.
RAKATA 🕺🏽 RA-KA-TA 🕺🏽
---
Updates
Breaks, Boogies & Friends w/ Rei.do.Nada #9
I'm going to be back on Vandelay Radio on Saturday 26th of August between 1700-1800 BST (1200-1300 ET).
Check it out live on https://www.vandelayradio.com/
SIBLING 01 @ Next Door Records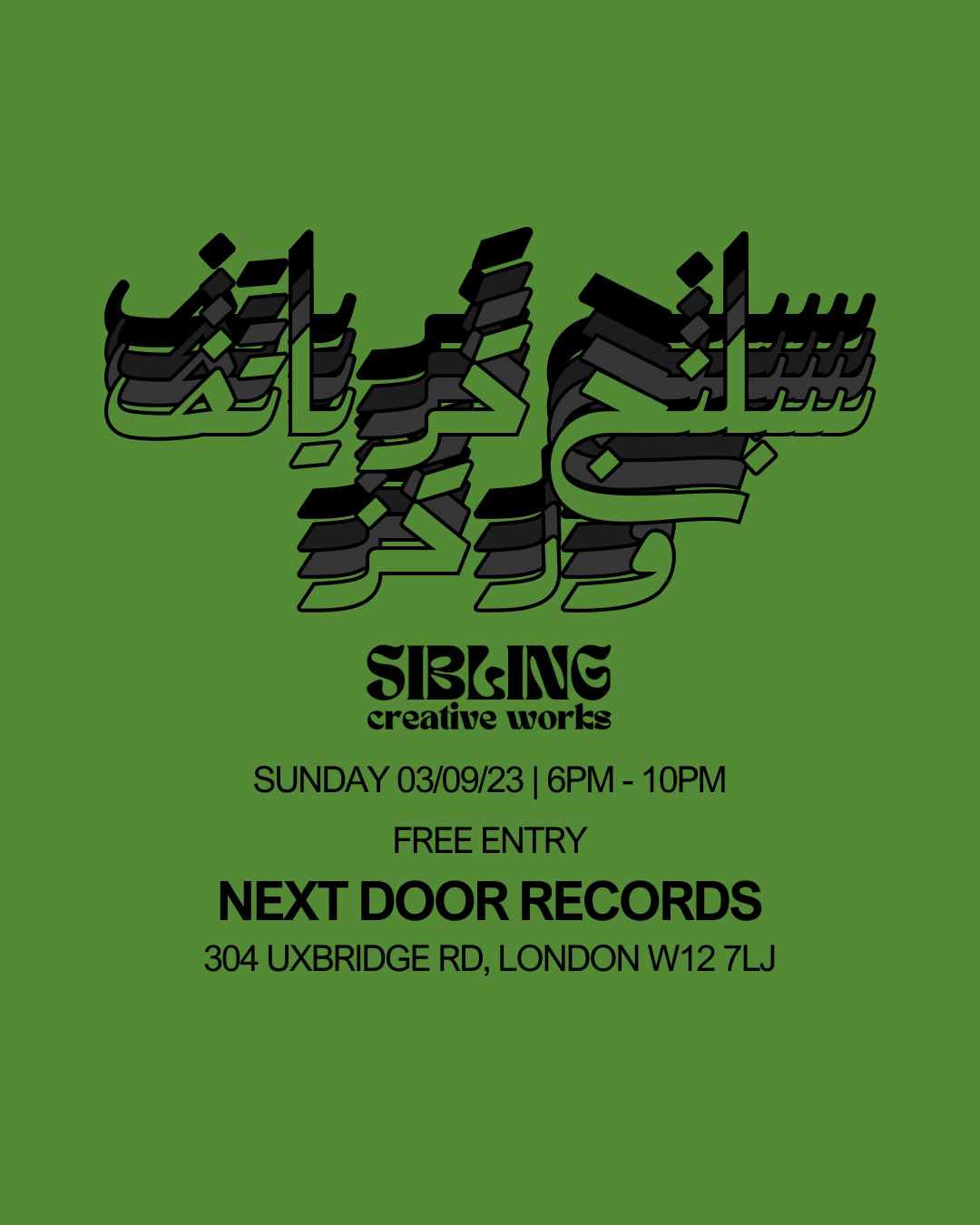 We've still got LOADS of tickets available for SIBLING's launch event. Find them on Resident Advisor here.
The Movie Newbie - Episode 96
Episode 96 is coming out on Monday and will feature the return of the usual guys Raphael Lecat and Oliver Mangham. We go hard in the paint for this one.
We also recorded a longer version of the Barbie episode, but we might make that one only available to members/subscribers.
Check the episodes out wherever you listen to podcasts.
---
If you liked this then please help me out by sharing this newsletter with whoever you think will like this kind of content.
I appreciate you :)