Ah February, when the year actually gets started
The Month of LOOoooOoooOove
Yo what's up friends! I hope all of you have had a lovely month full of love and good times, it was the month of St. Valentine after all—UNLESS YOU'RE A BADASS AND YOU DON'T GIVE IN TO CAPITALIST HALLMARK-SET HOLIDAYS 🤘
Anyways, whoever you are, I really do hope you've had a wonderful month, mine was great!
For the first time in a long time, I've been feeling rather active, inspired and motivated. I've been creating a lot more, my mind's neural networks have been firing, my climbing has improved, I'm getting fit again, and most importantly, I've been sleeping better every day. I've started delving into my passions and curiosities again, and it's been great.
Everything from discovering new artists and bands, to exploring the many facets of Web3.0, this month has opened my eyes to a lot of different types of creation. Holy fuck it's inspiring.
Announcements
I'm starting another podcast called: I, Creative.
At the moment, I'm looking for possible guests to be on the first season of the podcast. I'm still unsure as to how the whole show is going to work… all I know is that I want to have creative people be involved in whatever capacity they can.
Basically, my idea is to conduct some interviews with different types of creative people and their creative practice. I want it to be a platform for anyone to showcase their creativity, imagination, ingenuity and all things creative.
If you're interested in being on the show, click here.
Also here are my mockups for the logo and podcast cover art
So what do you think? Top or Bottom?
---
Some cool stuff I found
Music:
I went on a bit of a throwback this month… So here's some metalcore/hardcore/metal/post-scene stuff
What I've been watching:
So here's some of the stuff I've watched in February. There's some oldies, and some newbies.
Okay so I know this came out in 2020 and yes I'm always late to the show, but this was such a great series (sorry to disappoint you it got cancelled by Hulu because they suck). It's based of the film, High Fidelity and it's just such a huge improvement. If you want something easy, chill and full of good tunes, this is the show for you.
I love me some history. I love me some Vikings. This came out a few days ago and I'm already on the last episode. You do what you will with that info 🤷🏽‍♂️
Nerdy stuff?
Now here's some real nerd 🤓 content. If you know me, you know how much I love my Sci-Fi and Fantasy, and if you're into it to, you definitely have to check the Wizards & Warriors channel, from the peeps that run Kings & Generals (History & Politics). If you're interested in how the Hobbits managed to eat so much food, drink so much ale, and smoke so much pipe-weed check this video out.
The Elephant in the Room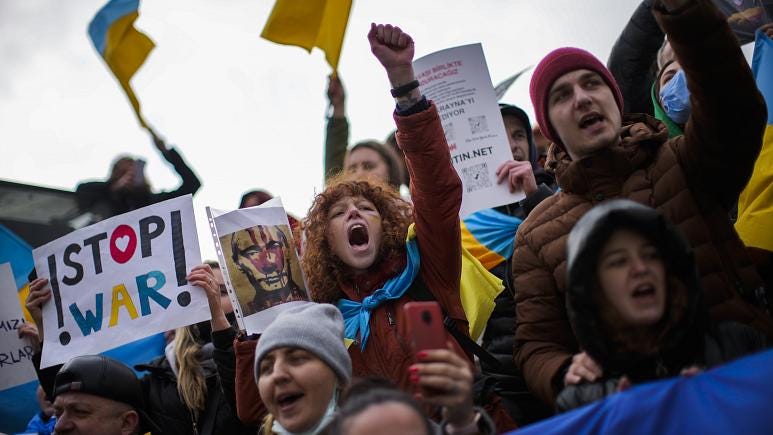 The conflict between Russia and Ukraine is just another colossal failure by the world's powers in preventing war. Unfortunately this is nothing new 😞 For the last year, we've seen increased aggression from China with Taiwan, nuclear weapons testing by North Korea, the return of The Taliban, the military coup in Myanmar, and not to mention, the consistent conflicts scattered across the Middle East.
After all that's happened with the pandemic, you'd hope that people would band together and attempt to prosper, but sadly it seems like authoritarianism and realism (where world politics is always and necessarily a field of conflict among actors pursuing wealth and power) trumps all.
The Movie Newbie
For the month of February, we had a lovely time bringing a few guests back to the show. We decided on visiting another master of film (or not really at all in my opinion) James Cameron. So of course, when doing James Cameron, we had to go with the classics: Aliens, Titanic and Avatar.
I'd also like to give a special shoutout to Aalia and Joseph Lanius, thank you so much for bringing your expertise and immense wealth of knowledge to the show.
And a very special thank you to the amazing Neringa Mikutyte for bringing some of the best vibes The Movie Newbie has been graced with.
YouTube
Honestly, Youtube has been a very tough one this month. I've been finding it a lot more difficult to stick to my at least 1 video a week goal. So I'm going to have to figure out to create a system that allows me to actually do that. So far, it seems like I'm at the one-video-every-two-weeks stage. Yes, I did publish a bunch of shorts for my #BookAWeek thing, but at the end of the day, I want to post more valuable and engaging content.
So here's the video I did this month, Atomic Habits for Creativity.
#BookAWeek
and here are the books that I read in February:
---
So onwards to March! It's going to be an amazing one my friends, don't you worry.
If it isn't, send me a DM on Instagram and we can go for coffee and doughnuts (aww fuck yeah).